Editor-in-Chief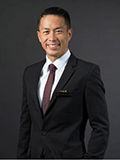 Melvin Lee Kiang Chua, MBBS, FRCR, PhD
Division of Radiation Oncology, National Cancer Centre, Duke-NUS Graduate Medical School, Singapore
Melvin L.K. Chua is a Clinician-Scientist at the National Cancer Centre Singapore, and an Instructor with the Duke-NUS Graduate Medical School. His research is focused on discovery and translational cancer genomics, and the development of biomarker-directed clinical trials in nasopharynx and prostate cancers.
Dr. Chua graduated from the Yong Loo Lin School of Medicine, National University Singapore in 2002. He obtained his Fellowship in Clinical Oncology from the Royal College of Radiologists, and his Doctorate from the University College London in 2013. He later completed post-graduate fellowships at the Mount Vernon Cancer Centre, UK, and the Princess Margaret Cancer Centre, Toronto. Of specific mention, Dr. Chua was part of the multi-member Canadian Prostate Cancer Gene Network (CPC-GENE); the lead site of the International Cancer Genomics Consortium (ICGC) for prostate cancer. The group has published in several high impact journals, including Lancet Oncology, Nature, Nature Genetics, and Nature Communications.
Dr. Chua is also a regional expert on nasopharynx cancer, and he was nominated as the expert panelist on an IAEA-led radiotherapy for nasopharyngeal cancer initiative, scientific chair for the Singapore Radiological Society inaugural Radiology Asia 2015, and presenter at the inaugural Gordon Research Conference on Nasopharyngeal Cancer, HK in 2016.
Dr. Chua's other academic activities include his roles as an Academic Editor of the Chinese journal of Clinical Oncology, and Associate Editor of the British Journal of Radiology. He also hold memberships with ASCO, AACR, ASTRO, and ESTRO. He has published over 20 peer-reviewed papers, including articles in The Lancet, Nature, European Urology, and Clinical Cancer Research. His highlighted awards include multiple Conquer Cancer Foundation ASCO Merit Awards (2013, 2016, and 2017), the National Medical Research Council Singapore Clinician-Scientist Transition Award (2014), and the Canadian Urologic Oncologic Research Award (2015).