Editor-in-Chief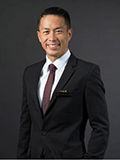 Melvin Lee Kiang Chua, MBBS, FRCR, PhD
Division of Radiation Oncology, National Cancer Centre, Duke-NUS Graduate Medical School, Singapore
Melvin L.K. Chua is the Head of Department and Senior Consultant for Head and Neck and Thoracic Cancers, Division of Radiation Oncology and Director of the Data and Computational Science Core at the National Cancer Centre Singapore. He is also a Clinician-Scientist at the National Cancer Centre Singapore, and an Associate Professor with the Duke-NUS Graduate Medical School. His research is supported by the NMRC Clinician -Scientist Award, and is focused on discovery and translational cancer genomics, and the development of biomarker-directed clinical trials in nasopharyngeal (NPC) and prostate cancers.
Dr Chua graduated from the Yong Loo Lin School of Medicine, National University Singapore in 2002. He obtained his Fellowship in Clinical Oncology from the Royal College of Radiologists, and his Doctorate from the University College London in 2013. He later completed post-graduate fellowships at the Mount Vernon Cancer Centre, UK, and the Princess Margaret Cancer Centre, Toronto. In the year of 2021, he obtained his fellowship of the Academy of Medicine Singapore under the College of Radiation Oncology and Clinician Scientists.
Dr Chua is a Key Opinion Leader (KOL) on NPC and prostate cancer, and he has been invited to speak at more than 100 international meetings. He is also on the scientific advisory board for the NPC Guangzhou-Singapore Trial Network, a board member on the Head Neck Cancer International Group (HNCIG) and the Scientific Committee Chair of HNCIG Artificial Intelligence working group.
Dr Chua's other academic activities include his roles as the Associate Senior Editor of the International Journal of Radiation Oncology Biology Physics – Official journal of the American Society of Radiation Oncology and Editor-in-Chief, Annals of Nasopharynx Cancer. He has published over 100 peer-reviewed papers, with a H-index of 28, including highly cited articles in the New England Journal of Medicine, Lancet, Lancet Oncology, Nature, Nature Medicine, Nature Genetics, Cell, Journal of Clinical Oncology and JAMA Oncology.